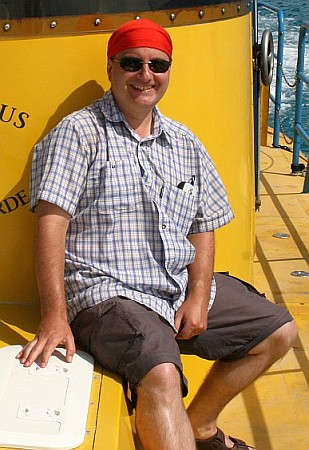 Attila Bertalan on Sal
About Me
A friendly hello!
You may be interested to know, who is behind this website azores.atlantic-islands.com. Or you may have just landed here by accident and want to leave asap.
For the former, I would like to introduce myself:
My name is Attila Bertalan. Mid-1990s, I attended the University of Applied Sciences in Karlsruhe in cartography. My diploma work in 1998 consisted of a tourist map of the Cape Verde islands. As it turned out, there was a small market niche for the map and in 1999 I started my self-publishing company "AB Kartenverlag".
Since then I updated my map "Cabo Verde 1 200 000" more or less regular. For the updates I have been travelling to Cape Verde. This exploration trips brought some travel experiences and several photos as a byproduct.
Over time I have expanded my website and my travel interests, so that I now offer on my website travel literature to other Atlantic islands.
My newest project is in cooperation with Dr. Reitmaier the new editions of the series of hiking maps for the Cape Verde Islands from the insolvent Goldstadtverlag.